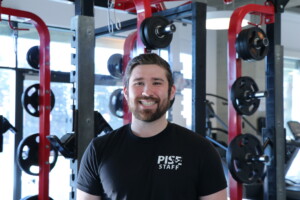 Growing up in Campbell River, Matt was surrounded with endless options for outdoor recreation. Between hiking, mountain biking, kayaking and everything else under the sun, it's no wonder this is where his passion for fitness first developed.
Matt started to play sports like hockey and lacrosse, which led him to attend a local gym and try weightlifting, where he truly fell in love with sport and fitness. Noticing the many physical and mental health benefits he gained from his time playing sports and strength training, Matt made it his goal to help others experience the same benefits through coaching.
To further his education, Matt attended Camosun College and obtained a Bachelor of Sports and Fitness Leadership in 2021. Since graduating, Matt has obtained his Certified Personal Training credentials through the Canadian Society for Exercise Physiology as well as becoming NCCP certified in Level One Olympic Weightlifting.
If he looks familiar, it's because Matt has been involved with just about every department at PISE. Starting originally as a Fitness Centre Receptionist in 2019, Matt transitioned over to Strength and Conditioning in March 2021.
When asked what he enjoys most about being a S&C Coach, Matt's answer is simple: the journey of helping his clients reach their end goal and seeing their progress as they continue to train.
Matt enjoys coaching people from all walks of life and helping them reach their goals. Whether you're a beginner or a seasoned gym-goer, there's always something new to learn! In fact, Matt's favourite coaching memory is getting to the end of his 16 week "Intro to Strength and Conditioning" program and going to take a group photo, only to be lifted up by the class members in the front of the picture.