PISE Hosts ȽÁU, WELṈEW̱ Tribal School Terry Fox Run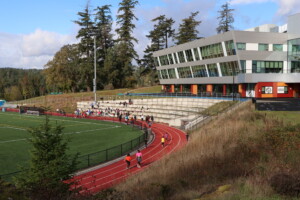 PISE was pleased to host ȽÁU, WELṈEW̱ Tribal School's Terry Fox Run on October 6th, 2021.
180 students ran laps around PISE's fully accessible 400-meter track to kick-off their fundraiser. Running laps on a beautiful sunny autumn day, students had their popsicle sticks in hand, marked, to see if they beat their lap count from the previous year. They ran, jogged, and walked around the track in high spirits kicking off the event. 
PISE and ȽÁU, WELṈEW̱ Tribal School have partnered over the years on various physical literacy initiatives for students and PISE was so pleased to host the school for their run.  ȽÁU, WELṈEW̱ Tribal School is currently undergoing major renovations to their outdoor and recreation facilities so needed a safe space for the students to run.
Rita Morris, Grade Four SENĆOŦEN immersion teacher and Terry Fox event organizer for the school, said that the students and staff were looking forward to kicking off the fundraiser. ȽÁU, WELṈEW̱ Tribal School has been a Terry Fox Fundraiser participant for over 10 years. With COVID-19 complications last year, they were unable to hold a run. Rita was excited to bring back the run this year at PISE. "Giving the kids the opportunity to experience a professional sporting field was exciting," said Rita. The kids had an opportunity to come out and embrace the spirit of togetherness with a goal to raise $700.
Event organizers Jess Waterman and Rita Morris shared, "It was a genuine treat to be able to go off-site to a state-of-the-art facility like PISE. It was everything we wanted and more – clean, comfortable, and a safe place for the students to run. Right now, we don't have a good place to run due to construction on site. The PISE staff went above and beyond to help welcome and support us throughout the whole event. Some feedback we received is – "It was so much fun!" and "Can we do this again next year?!" It was a great community-building event after being away from the school for a year and a half learning virtually. We hope to continue to build upon the positive relationship we have with PISE with events like this in the future."
The team at PISE is excited to welcome ȽÁU, WELṈEW̱ back anytime for future events and learning!