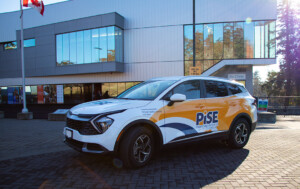 By Limara Yakemchuk
As PISE has evolved, so have their community outreach initiatives, programs, and equipment. With the growth of PISE's physical literacy programs and the inclusion of children's balance bikes and sport wheelchairs in sessions, the search for a vehicle to transport this equipment began.
Community oriented and locally owned, Kia Victoria provided the perfect solution. Knowing that Kia vehicles rate high for safety and quality, PISE reached out and a partnership was born through discussions about the organization's needs. PISE is now proudly transporting bikes, sport wheelchairs and many other pieces of equipment to deliver programs to children all over Southern Vancouver Island in a 2023 Kia Sportage.
PISE will use this vehicle to increase program accessibility by bringing equipment to those that need it. Without a car and trailer to transport all this equipment around, PISE's capacity to do this was quite limited as it required use of personal vehicles. This meant PISE was not always able to accommodate program requests. With a vehicle ready at all times, PISE is now able to provide more education on physical literacy, quality physical activity and inclusive practices to our local community!
PISE would like to thank, Kia Victoria, for their generosity and increasing PISE's reach so they are able to transform more lives through healthy activity and sport!