By Limara Yakemchuk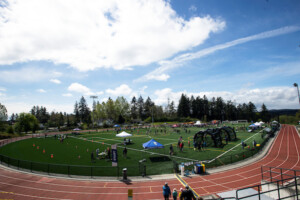 The TD Family Sport & Recreation Festival returns to PISE on this upcoming Saturday, May 6th! For the 12th year, PISE is proud to host this family-friendly festival from 11am-3pm at 4371 Interurban Rd, Victoria BC. Come spend your Saturday afternoon with us doing interactive sport and recreation activities for the whole family. The best part? There is no cost for admission and activities!
The festival is sponsored by TD Bank Group and co-hosted by PISE and the Greater Victoria Sports Hall of Fame, welcoming around 2,000 community members each year. A great opportunity to try new activities for kids and adults alike, this year will include a variety of different options for all ages and abilities. Team sport activities, such as soccer, hockey and rowing will be included, individual sport activities will be spotlighted as well, such as karate and swimming.
The Canucks Autism Network will be promoting physical literacy through games involving parachutes and bean bags, and OneAbility will put on adapted activities. If you're hoping to see any mascots, you're in the right place! Stewie the Starfish from Pacific FC, Rampage from the Camosun Chargers, and PISE's own Klee Wyck will all be making appearances! Local sports teams such as the Victoria Royals and Pacific FC will have their own booths, with the Victoria Royals putting on lawn games and Pacific FC running an inflatable soccer station. In addition to all of the activities listed above, the festival will begin with a kids race around PISE's 400m track led by Sasha Perron, a Kwakwaka'wakw athlete, in memory of those lost in residential schools.
Hungry? Food trucks will be on site for snacks and lunch. There will also be a raffle prize to help raise money for PISE's charitable endeavors, such as the Play Your Way
Grant, which provides funding for children to participate in activities like summer camps and adapted sport. We'll see you there May 6th!